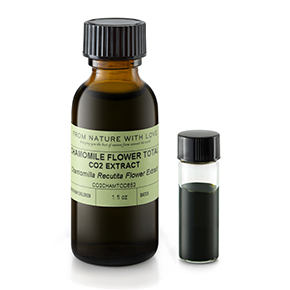 Chamomile Flower CO2 Total Extract
Add to Personalized Shopping List
New Lower Pricing!
You have requested that we add a product to your Personalized Shopping List. We were unable to do this as you are not logged into your customer account. Please login to your Customer account or create a customer login. After logging in, please try adding this product again.
Average Rating:


Read Reviews
---

Customer Ratings and Reviews
Average Rating:

---
| | | |
| --- | --- | --- |
| Rating: | | 4 out of 5 |
Reviewed By: Stanley
Posted: Tuesday, October 16, 2012
Location: Willmar, MN
Comments: Smells exactly like Chammomile Tea, which is nice. But it is very thick and difficult to disperse. I warmed the bottle in hot water and used a dropper. It still was so thick that a lot of the product remained in the dropper and was wasted - that's my only disappointment. I need to improve my method so none of this precious extract is wasted next time!
---
| | | |
| --- | --- | --- |
| Rating: | | 4 out of 5 |
Reviewed By: V
Posted: Monday, December 26, 2011
Location: Seattle, WA
Comments: The usual excellent quality you would expect from FNWL. Smells the closest to the true chamomile flower I've ever experienced. Sweet and honey-like without the pungent woody undertones. Very viscous, almost resinous. Had to place bottle in warm water and it still would not pour out of bottle.
Total Number of Ratings: 2