Essential Oils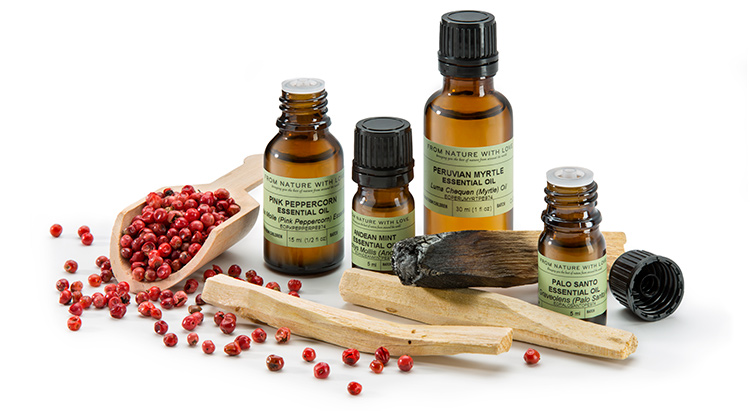 Certified Organic Essential Oils | Conventional Essential Oils
Certified Organic Aromatic CO2 Selects | Conventional Aromatic CO2 Selects
Certified Organic Aromatic CO2 Totals | Conventional Aromatic CO2 Totals
Fragrance and Perfume Test Strips | Aromatherapy Kits
From Nature With Love offers premium quality, certified organic and conventional essential oils for use within aromatherapy, skin care, soap making, massage, spa, wellness and household cleaning applications.
We have a certified aromatherapist on staff that has over 20 years experience working with essential oils. Our certified aromatherapist is involved in assessing many of our essential oils, and most of our essential oils undergo independent third party GC/MS and/or GC/FID testing. We publish our available reports directly on our essential oil product detail pages.
For essential oil testing, we primarily use Laboratoire Phytochemia and Essential Validation Services because they have extensive experience in the testing of essential oils. Although other labs, including some operated by universities, can perform essential oil testing, they don't have the experience or component databases that Laboratoire Phytochemia and Essential Validation Services have.
A Brief Introduction to Essential Oils
Essential oils are highly aromatic, pure botanical oils that are distilled (most frequently by steam or water) from the leaves, needles, stems, flowers, bark or roots of particular aromatic plants. Most essential oils are steam or hydro distilled. however, citrus essential oils are typically cold pressed from the rinds (peels) of citrus fruits, but are sometimes also available as steam distilled oils.
Because of their natural composition, essential oils possess many highly beneficial properties. Look to each essential oil's description for details of its properties and applications.
It takes a great deal of botanical material to produce essential oils. Essential oil yields range from less than one percent to about 3 percent. A few essential oils offer slightly larger yields. Because the amount of essential oil produced can vary from one botanical to the next and because botanicals can vary in cost, you will also find that essential oils can vary in price.
Essential oils should never be applied directly to the skin without first either diluting the oil adequately in a carrier oil or incorporating it at proper dilution into your formulation. For more information, please refer to our Essential Oil Safety library article.
Our beautiful line of therapeutic quality Organic Essential Oils is certified NOP Organic by CCOF and meet the national organic standards established by the USDA National Organic Program. View our certificate for more information. From Nature With Love is a registered trademark of our company, Natural Sourcing, LLC, and you'll see Natural Sourcing listed on the certificate.
Basing your assessment of an aromatic strictly by how it smells out of the bottle can be problematic. When you inhale the oil directly from the bottle, the thin bottle neck can prevent the aroma from fully divulging its complexity and its full palette of aromatic notes.
Fragrance and Perfume Test Strips are ideally suited for evaluating the aroma of essential oils, CO2 extracts, absolutes, fragrance oils and other aromatics. They're also wonderful for evaluating blends and fragrances that you create for personal care or aromatherapy formulations.
Easily explore the world of aromatherapy by enjoying the essential oils contained in each of our Aromatherapy Kits. Visit our Personal Care Inspiration Kits area for a selection of body care kits.