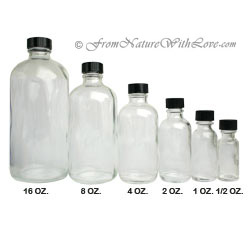 8 oz. Flint Boston Round Bottle with Cap
Add to Personalized Shopping List
Average Rating:


Read Reviews
---

Customer Ratings and Reviews
Average Rating:

---
| | | |
| --- | --- | --- |
| Rating: | | 5 out of 5 |
Reviewed By: Tina
Posted: Friday, May 29, 2009
Location: FNWL Employee
Comments: Wonderfully clear bottles with great lids that seal well!
Total Number of Ratings: 1

Reviews submitted by FNWL Employees are denoted as such.

Why do we allow employees to submit reviews?
Employees of FNWL are amongst our most active, enthusiastic and knowledgeable product users and testers. Our staff has expressed desire to submit product reviews for the products they use or have tried. The choice to submit reviews is left up to each employee. Employees that submit reviews are encouraged to be completely objective about each product that they review.