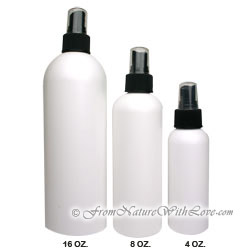 8 oz. HDPE Cosmo Round Bottle With Black Sprayer
Add to Personalized Shopping List
You have requested that we add a product to your Personalized Shopping List. We were unable to do this as you are not logged into your customer account. Please login to your Customer account or create a customer login. After logging in, please try adding this product again.
Average Rating:

Read Reviews
---

Customer Ratings and Reviews
Average Rating:
---
| | | |
| --- | --- | --- |
| Rating: | | 1 out of 5 |
Reviewed By: Tricia
Posted: Monday, July 1, 2013
Location: Westland, MI
Comments: Does not spray light oils. Contacted FMWL they emailed once to find out what was in my containers and never replied back. Will NOT be buying again.
FNWL Response: Tricia, the reason that our Customer Care Department asked what ingredients are in your formulation is that the sprayers, by their nature, aren't compatible with thick, oil-based formulations. Some experimentation may be necessary to ensure compatibility between your formulation and the sprayer mechanism. We're very sorry if you did not receive our reply. Would you please check your email spam filter.
Total Number of Ratings: 1