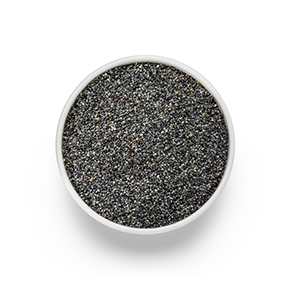 Dutch Blue Poppy Seeds
Add to Personalized Shopping List
You have requested that we add a product to your Personalized Shopping List. We were unable to do this as you are not logged into your customer account. Please login to your Customer account or create a customer login. After logging in, please try adding this product again.
Average Rating:


Read Reviews
---

Customer Ratings and Reviews
Average Rating:

---
| | | |
| --- | --- | --- |
| Rating: | | 5 out of 5 |
Reviewed By: Dorothy
Posted: Thursday, December 30, 2010
Location: Little Rock, AR
Comments: Really liked these for making melt and pour bar soap. You need to use a suspension soap though, like goats milk or olive oil. The seeds are heavy enough to settle somewhat in glycerin. Visually, these look best in opaque soap.
Total Number of Ratings: 1