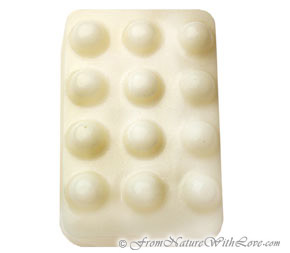 Cold Cream Base Melt and Pour Soap Base
Add to Personalized Shopping List
Save 40% on Cold Cream Melt & Pour Soap Base!
Limited time only. Sorry, no rainchecks.
You have requested that we add a product to your Personalized Shopping List. We were unable to do this as you are not logged into your customer account. Please login to your Customer account or create a customer login. After logging in, please try adding this product again.
Average Rating:


Read Reviews
---

Customer Ratings and Reviews
Average Rating:

---
| | | |
| --- | --- | --- |
| Rating: | | 5 out of 5 |
Reviewed By: Savannah
Posted: Thursday, April 28, 2016
Location: Grand Island, NY
Comments: I used the Cold Cream base in a marbled M&P soap marbled with the Rose Hip & Jojoba base. This base is easy to work with, and makes a really solid, excellent bar of soap. I've had no issues with sweating, and it cures faster than other bases I've worked with, which I love! It can get a little bit of a film on top, but this is easily remedied by keeping the formula moving, and keeping the temperature from getting too hot. I'm very pleased with this base, and I've received very positive reviews from my customers who have tried the soap.
---
| | | |
| --- | --- | --- |
| Rating: | | 5 out of 5 |
Reviewed By: Amber
Posted: Wednesday, February 25, 2015
Location: Front Royal, VA
Comments: This is THE BEST soap I have ever used. It is now the only soap I use on my face! Will be buying this again soon!
---
| | | |
| --- | --- | --- |
| Rating: | | 3 out of 5 |
Reviewed By: Mark
Posted: Wednesday, December 29, 2010
Location: Decatur, IN
Comments: hard to work with because it forms a skin very fast
FNWL Response: Mark, I work with our M&P bases a lot and I do NOT have this problem. It sounds like you're overheating the bases. Try melting them at a lower setting and be sure you are using a double boiler.
---
| | | |
| --- | --- | --- |
| Rating: | | 5 out of 5 |
Reviewed By: Antoinette
Posted: Friday, November 06, 2009
Location: East Elmhurst, NY
Comments: Your Cold Cream Base is a great soap. It lathers well and mixes well with other soap bases. I will order it again before it goes out of stock again.
Total Number of Ratings: 7