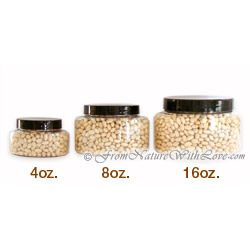 8 oz. Clear Oval PET Jars with Black Caps
Add to Personalized Shopping List
You have requested that we add a product to your Personalized Shopping List. We were unable to do this as you are not logged into your customer account. Please login to your Customer account or create a customer login. After logging in, please try adding this product again.
Average Rating:


Read Reviews
---

Customer Ratings and Reviews
Average Rating:

---
| | | |
| --- | --- | --- |
| Rating: | | 5 out of 5 |
Reviewed By: Antoinette
Posted: Thursday, September 17, 2009
Location: East Elmhurst, NY
Comments: I love these containers. Initially, I did not think they would look as nice. With a label, however, they are actually very nice looking and sturdy. Thank you FNWL.
Total Number of Ratings: 1