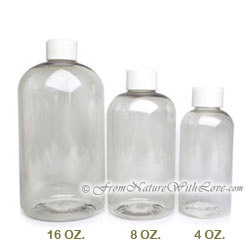 4 oz. PET Boston Round Bottle With Regular Cap
Add to Personalized Shopping List
Average Rating:


Read Reviews
---

Customer Ratings and Reviews
Average Rating:

---
| | | |
| --- | --- | --- |
| Rating: | | 5 out of 5 |
Reviewed By: Diane
Posted: Friday, May 8, 2009
Location: Williamsport, PA
Comments: The bottles are good but next to impossible to lotion into them without making a mess. Not the bottles fault just the thickness of lotion.
FNWL Response: Diane, you may wish to adjust your recipe so that your lotion becomes slightly more pourable. If you aren't already using a funnel to transfer your product into the bottles, be sure to try that. After doing a few, you can tell how much product to pour into the funnel and then do something else for a moment or two until all the product has flowed into the bottle. For lotions, you may also want to consider our bottles with disc or turret style caps and our glass and aluminum bottles with lotion pumps.
---
| | | |
| --- | --- | --- |
| Rating: | | 5 out of 5 |
Reviewed By: Tina
Posted: Tuesday, March 10, 2009
Location: FNWL Employee
Comments: I just love these bottles... We bought these to fill with colored sand and other props to take pictures of my daughter's nail art against the best nail art pictures are done when you hold onto something round. They are so clear that anything I put in them comes through brightly! I've used them for liquid soaps and lotions as well. Soap colored with a mica looks amazing through the clear body!
Total Number of Ratings: 2

Reviews submitted by FNWL Employees are denoted as such.

Why do we allow employees to submit reviews?
Employees of FNWL are amongst our most active, enthusiastic and knowledgeable product users and testers. Our staff has expressed desire to submit product reviews for the products they use or have tried. The choice to submit reviews is left up to each employee. Employees that submit reviews are encouraged to be completely objective about each product that they review.