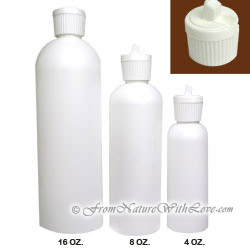 4 oz. HDPE Cosmo Round Bottle With Turret Cap
Add to Personalized Shopping List
You have requested that we add a product to your Personalized Shopping List. We were unable to do this as you are not logged into your customer account. Please login to your Customer account or create a customer login. After logging in, please try adding this product again.
Average Rating:


Read Reviews
---

Customer Ratings and Reviews
Average Rating:

---
| | | |
| --- | --- | --- |
| Rating: | | 3 out of 5 |
Reviewed By: Antoinette
Posted: Thursday, August 20, 2009
Location: East Elmhurst, NY
Comments: I really don't like these bottles. At times I find them difficult to squeeze the product out. However, the Aluminum Brushed containers are just beautiful and add an elegant aura to the presentation of the product.
Total Number of Ratings: 1